Raspberry Coconut Breakfast Balls – oats, ground almonds, coconut and raspberries.
This recipe came about by accident – a raspberry and coconut granola gone wrong! This was a good accident though. These raspberry and coconut breakfast balls are so quick to prepare, really yummy and approved by both kid and baby.  With no refined sugar, oats for energy, ground almonds for protein, raspberries and coconut; these little balls of goodness are a great way to start the day.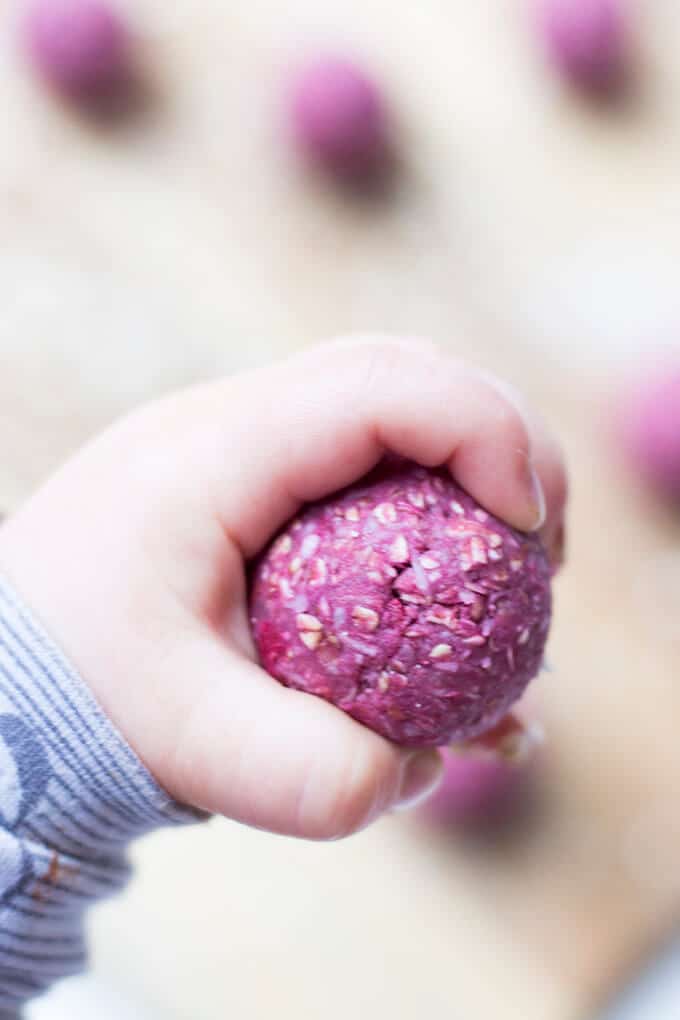 They are perfect for little hands and were demolished very quickly by Rory (13 months)  and Finn (4yrs)  They aren't sweet but if you want to add a little sweetness then you could easily throw in some raisins or any other dried fruit to the mixture. 
Raspberry Coconut Breakfast Balls
Raspberry and Coconut Breakfast balls made a great breakfast or snack for on the go
Author:
Amy @ Feeding Finn
Ingredients
1 cup (110g) rolled oats
½ cup (56g) cups almond flour
⅓ cup (28g) unsweetened desiccated coconut
½ cup (134g) defrosted and crushed frozen raspberries
1 tbsp (10g) melted coconut oil
Instructions
Put all the ingredients into a mixing bowl and mix until combined
Roll into balls
Notes
Make sure the raspberries are crushed before adding to the mixture.
Store in the fridge in a an airtight container.