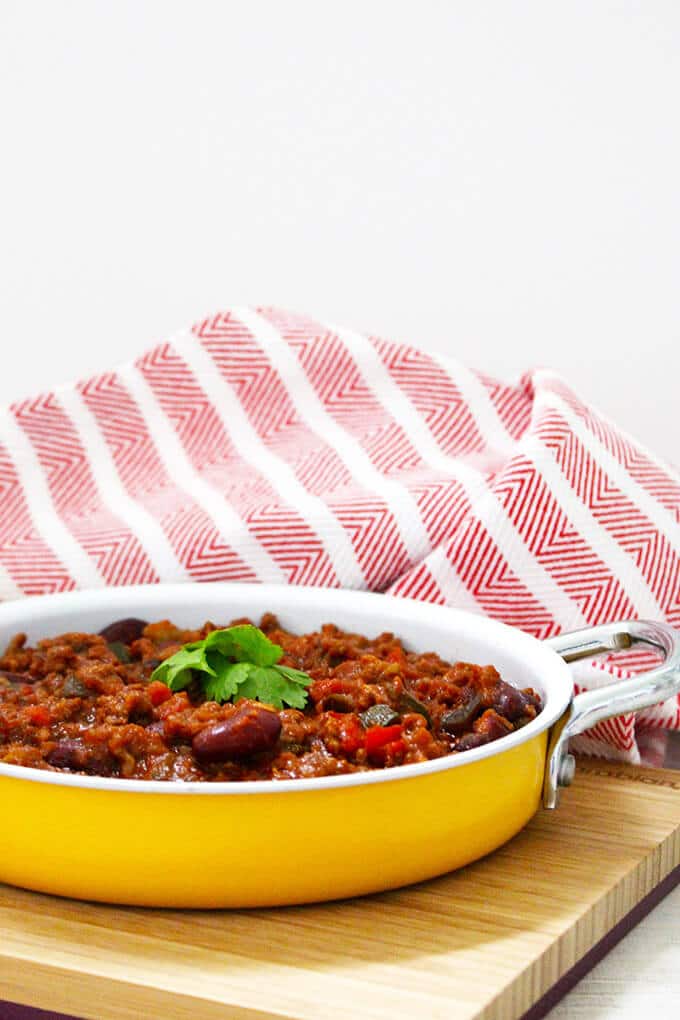 This is called super charged chilli as it is packed full of vegetables. I like to make a chilli or a bolognese when I have a lot of vegetables to use up. The recipe therefore varies each time I make it, but the base flavours remain the same. I used an aubergine (egg plant) in tonight's chilli and I think it gave it a lovely texture and flavour. When you make this you might feel that there is an overload of vegetables, but they do cook right down and are barely noticible once it has been simmering for around an hour. This is, therefore, a great meal for helping fussy eaters to eat their five a day.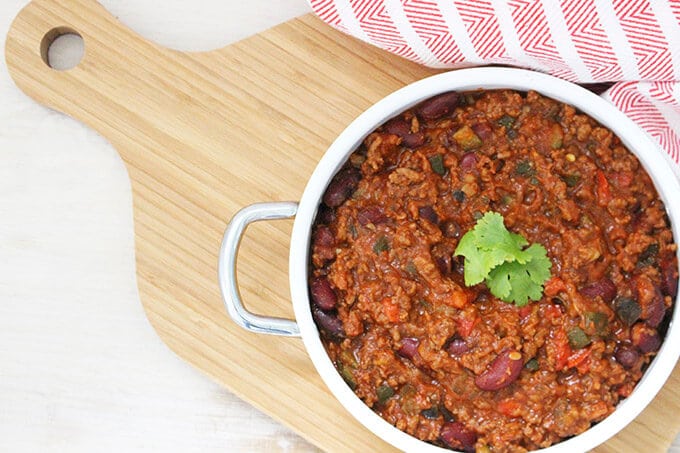 Super Charged Chilli
A chilli packed full of vegetables.
Ingredients
1

red onion

1

celery stick

1

red pepper

1

courgette

1

aubergine

1

tbsp

oil

2

garlic cloves - crushed

1

tsp

ground cumin

1 1/2

tsp

smoked paprika

(or paprika)

500

g

lean beef steak mince

500

g

passata

(or tinned tomatoes)

2

tbsp

tomato puree

400

g

can of kidney beans - drained and rinsed.
Instructions
Chop all the veg into equal sized small chunks.

Heat the oil, over a medium heat, in a large sauce pan and add the onion and celery. Sauté for a few minutes until the onion starts to turn translucent.

Add the garlic, chopped pepper and spices. Give it a good stir and allow it to cook for a couple more minutes, stirring occasionally.

Turn the heat up and add the minced meat. Break the meat up in the pan and keep stirring, for about five minutes, until browned all over.

Add the remaining vegetables, the puree and the passata. Bring to the boil and then reduce the heat and allow to simmer for at least an hour with the lid on. You should check on the pan occasionally to make sure the sauce isn't drying out or catching on the bottom of the pan.

Add the kidney beans, stir and allow to cook for a further 5 mins.

Turn off the heat, return the lid and allow to stand for 5-10 mins before serving.
Recipe Notes
Lovely served with rice or an avocado and tomato salad.